The writing may have been on the wall ever since the shambolic end of the
Animals
tour in July of 1977, but it was nearly six years later in the anticlimactic aftermath of
The Final Cut
that Pink Floyd seemed to disappear for good. Despite whatever has been written or said in the decades since, there was a period in the mid 1980s during which the band no longer existed in the minds of anyone involved (of course, there are many who believe that the band didn't really exist after this time frame either, but that is another matter for another forum).
During the period between the release of
The Final Cut
in March 1983 and the appearance of
A Momentary Lapse Of Reason
in September 1987, every member of the "classic" Pink Floyd lineup released their second solo album and pursued a musical career outside the Pink Floyd framework with varying degrees of passion and success. Also, being the 1980s and all, each member also dabbled in the synthpop genre, with almost universally disastrous commercial results.

Fired midway through the recording of
The Wall
in 1979, Floyd keyboardist
Richard Wright
found himself a salaried backing player on the following tour, which was a limited-engagement extravaganza staged only in four cities worldwide in 1980 and then again in London the following summer (these London shows, which ultimately became the final Pink Floyd concerts with
Roger Waters
, were professionally filmed and intended to create the framework of
The Wall
movie, but the footage was instead scrapped in favor of a totally band-free visual narrative).
Following the last of these concerts, Wright began work on what would become his second solo project. Unlike his rather sleepy 1978 release
Wet Dream
, however, this new album, titled
Identity
, would not feature Wright's name on the cover at all. Instead, the spring 1984 release was billed as the debut album by
Zee
-- a creative project created almost entirely on a Fairlight synthesizer by Wright along with ex-
Fashion
singer
Dave "Dee" Harris
.
While Roger Waters'
Radio K.A.O.S.
(which we looked at in
last week's column
) also embraced synths and modernized production techniques, the ex-Floyd leader's highly-recognizable vocal and lyrical sensibilities managed to give the music at least a
vaguely
Floydian feel. In the case of
Identity
, the lyrics and songs on which were written and sung entirely by Harris, and the distant, arch voice combined with Wright's icy, clattering synthpop textures, sounded absolutely nothing at all like Pink Floyd.
Dominated throughout by the sound of the hugely-(over)popular
Fairlight CMI
synth,
Identity
was perhaps the most deliberately plastic-sounding record ever recorded by any member of Pink Floyd. It might be a sign as to how much faith Harvest Records had in the project that it was only ever released in the United Kingdom. Even then,
Identity
failed to make any kind of commercial impression and the project was abandoned quickly thereafter. Wright has since written off
Identity
as "an experiment that didn't work out," which might explain why it remains to this day the sole Pink Floyd solo recording never to make the transition to CD.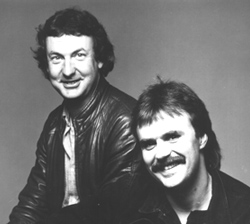 A year later, a second solo album by drummer
Nick Mason
appeared to a slightly warmer reception. Mason's first solo release, a quirky, jazz-pop workout titled
Nick Mason's Ficticious Sports
wasn't really a solo project so much as a
Carla Bley
album in disguise (this was possibly the doing of Columbia Records in the wake of the explosive sales of The Wall a year beforehand). For his second solo effort,
Profiles
, Mason teamed with his production company partner, ex-
10cc
guitarist
Rick Fenn
, to create a kind of "showroom" soundtrack album -- in effect, music created to be used in movies and television shows or commercials to come later.
In the midst of an album's worth of ultraslick and incredibly faceless incidental-style music (which I'm sure was probably the whole point in the first place) was "Lie For A Lie" -- a charming, sequencer-driven lite-pop single featuring vocals from none other than Pink Floyd's resident guitar hero himself,
David Gilmour
. A fair amount of curious airplay from rock stations looking for
anything
new to air from Pink Floyd (or at least two members worth) resulted in "Lie For A Lie"
just
missing the Rock Radio Top 20 that summer. The popularlity of the song never translated to decent album sales, though --
Profiles
never marched higher than Number 154 on the
Billboard
albums chart.